Continuano le purghe in Turchia
Commenti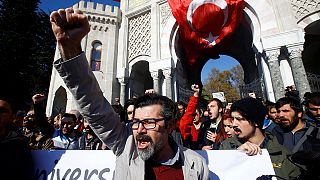 Non si arrestano le purghe in Turchia dopo il tentativo di colpo di Stato dello scorso 15 luglio.
Le grandi pulizie, come lo stesso governo turco le chiama, hanno visto fino a questo momento sospesi oltre 1200 agenti di polizia; è di questo lunedì l'arresto di diversi giornalisti di Cumhuriyet, il più antico giornale laico del Paese, una vera istituzione, a detta di molti.
Today in Crackdown: 1,218 officers expelled from Gendarmerie Forces Command over Gülen links || https://t.co/AUUvE3Wrzjpic.twitter.com/gmDVtHq3Mn

— Turkey Purge (@TurkeyPurge) 3 novembre 2016
.cumhuriyetgzt</a> isn&#39;t just any other independent newspaper: it&#39;s the oldest secular newspaper in the country, an institution of the Republic</p>&mdash; Martin Schulz (MartinSchulz) 31 ottobre 2016
Il fallito golpe di quest'estate è costato la vita a 241 persone oltre 2000 invece quelle ferite; il governo ha reagito con una durezza inaudita arrestando e sospendendo dal proprio posto di lavoro oltre 110 mila persone.
Stando a un rapporto parlamentare della deputata dell'opposizione Zeynep Altiok Akatli, reso pubblico a fine settembre in un solo mese, dal 17 agosto al 17 settembre, Erdogan ha fatto arrestare oltre 50 mila persone.
Uno dei settori più colpiti dalle purghe del presidente Erdogan è quello dell'istruzione , il numero degli insegnanti e funzionari statali del settore licenziati supera i 28 mila.
I militari sono oltre 4500 , mentre il numero degli accademici momentaneamente sospesi supera i 4 mila, quelli licenziati sono oltre 2 mila.
Today in Crackdown: Turkey detains another 41 teachers over coup charges || https://t.co/Ng4hp9351rpic.twitter.com/BEAGGWcpqp

— Turkey Purge (@TurkeyPurge) 3 novembre 2016
Il colpo di Stato è stata l'occasione per un nuovo giro di vite nei confronti della stampa. Tanto che il presidente turco fa parte delle new entry messe in evidenza da Reporters sans frontiers . L'organizzazione denuncia che dallo scorso luglio oltre 200 giornalisti sono stati arrestati e più di cento televisioni , radio, giornali e riviste sono stati chiusi.
The detention of Murat Sabuncu and other #Cumhuriyet journalists is yet another red-line crossed against freedom of expression in #Turkey

— Martin Schulz (@MartinSchulz) 31 ottobre 2016
Le purghe in Turchia sono state vivamente criticate in Europa. Martin Schulz, presidente dell'europarlamento ha detto: sembrano motivate da considerazioni politiche.
La cancelliera Angela Merkel l'ha fortemente criticato.
Critiche che non hanno scalfitto la sicurezza del presidente Erdogan e del suo entourage che hanno ribadito la necessità delle misure prese.