Soyuz raggiunge la Stazione spaziale internazionale con 3 astronauti
Commenti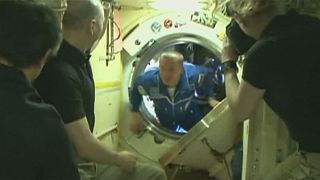 Dopo due giorni di navigazione, una navicella Soyuz Ms-02, con a bordo due astronauti russi e uno americano, ha raggiunto la Stazione spaziale internazionale (Iss). Il lancio era avvenuto dal cosmodromo Baikonour, in Kazakhstan.
Il nuovo equipaggio ha attraccatto alla #ISS, apertura portello prevista per le 14:00 https://t.co/j7iQKupETY

—

ESA

_Italia (@ESA_Italia) 21 ottobre 2016
L'equipaggio è composto dai russi Sergey Ryzhikov e Andrey Borisenko e dall'americano Shane Kimbrough della Nasa. Fanno parte della missione Expedition 49-50 che durerà 4 mesi, la navicella tornerà sulla Terra a febbraio. I tre trasportano anche delle reliquie di un santo ortodosso, Serafino da Sarov.
The Exp 49-50 crew docked the Soyuz MS-02 spacecraft to the station at 5:52am ET. pic.twitter.com/Kb0GhoOf4d

— Intl. Space Station (@Space_Station) 21 ottobre 2016
I nuovi inquilini della Stazione spaziale internazionale si uniscono ai tre astronauti già presenti: il russo Anatoli Ivanishin, l'americana Kathleen Rubins e il giapponese Takuya Onishi.
The Exp 49-50 crew docked the Soyuz MS-02 spacecraft to the station at 5:52am ET. pic.twitter.com/Kb0GhoOf4d

— Intl. Space Station (@Space_Station) 21 ottobre 2016