Lutto di un anno. Thailandia in ginocchio per la scomparsa del Re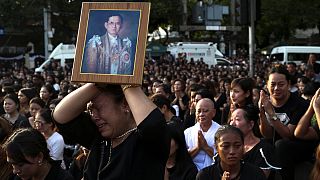 È una Thailandia letteralmente in ginocchio, quella che si è oggi svegliata senza il re che la guidava da ormai 70 anni. Con rituali funebri e preghiere, in migliaia hanno reso omaggio a Bhumibol Adulyadej dopo aver affollato il percorso del feretro dall'ospedale dove il sovrano si è spento ieri, al Grande Palazzo Reale.
Thousands of people in black attire on the roads around Grand Palace in Bangkok to join the funeral procession of @KingBhumibolpic.twitter.com/MPikWuzwrc

— Sanjay Kumar (Media) (@sanjayunv) October 14, 2016
Imposto il lutto di un anno ai funzionari pubblici. Il governo sospende i lavori
All'indomani della sua morte, scuole chiuse, lutto di un anno imposto ai funzionari pubblici e sospensione dei lavori governativi rispecchiano il dolore a cui danno voce molti passanti a Bangkok. "Al momento siamo tutti addolorati – dice una donna -. La morte del Re è un'immensa perdita per tutto il popolo thailandese. Sua Maestà rimarrà per sempre nel cuore di tutti noi".
Bangkok: Thai Civil servants are ordered to wear black clothes for one year in mourning from today.#Bangkok#Thailandpic.twitter.com/5MGQUIK1SP

— ATV (@atvpakistan) October 14, 2016
Bangkok Post has gone dark, literally monochrome in mourning and remembrance of the #kotpic.twitter.com/D980GWxZno

— Jason S.C. Fung (@JasonSCFung) October 13, 2016
In segno di lutto, quotidiani come il Bangkok Post sono usciti in edicola con un'edizione integralmente in bianco e nero
USA

in prima linea nel cordoglio internazionale. Obama: "Un amico stretto del nostro Paese"

Il cordoglio dei cittadini si è accompagnato all'ufficiale omaggio che la politica thailandese ha reso allo scomparsa monarca al Tempio del Budda di Smeraldo. Qui, a firmare il tradizionale libro di condoglianze insieme al capo di governo Prayuth Chan-ocha e all'ex premier Yingluck Shinawatra, è stato anche l'ambasciatore statunitense Glyn Davies: portavoce di un'amicizia, nelle ultime ore ribadita anche da Obama e Hillary Clinton, che hanno rispettivamente parlato di "amico stretto degli Stati Uniti" ed espresso le "più sincere condoglianze".
We mourn the passing of a King by Virtue pic.twitter.com/st8lKqzi3v

— Glyn T. Davies (@GlynTDavies) 13 ottobre 2016
Da un account in cui campeggia la foto di Bhumibol Adulyadej, l'ambasciatore statunitense a Bangkok, Glyn Davies, si unisce al dolore per la scomparsa del sovrano e fa portavoce delle condoglianze di tutto il popolo americano