Dimezza la crescita economica dell'Eurozona. Al palo la Francia
Commenti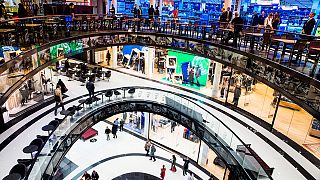 Brusca frenata della crescita economica della zona Euro. Le stime flash di Eurostat rivelano un incremento dello 0,3% per il secondo trimestre, la metà rispetto al precedente.
Euro area GDP +0.3% in Q2 2016, +1.6% compared with Q2 2015 #Eurostat - https://t.co/2CODjdKpgmpic.twitter.com/8TXEgr5tMG

— EU_Eurostat (@EU_Eurostat) 29 luglio 2016
Qui il comunicato di Eurostat comprensivo dei dati dell'Unione Europea nel suo complesso
Lieve crescita dell'inflazione
Il dato – su base annua corrispondente a un +1,6% – è accompagnato da un lieve aumento dell'inflazione, passata a luglio allo 0,2% dallo 0,1% di giugno. Per cibo, alcool e tabacco Eurostat attende un incremento dei prezzi al consumo dell'1,4%, il più sensibile dall'inizio dell'anno.
Qui il dettaglio dei dati nel comunicato di Eurostat"
Euro area inflation up to 0.2% in July 2016 (0.1% in June): flash estimate from #Eurostat - https://t.co/sWPJV6KjhVpic.twitter.com/JnnVImlF8s

— EU_Eurostat (@EU_Eurostat) 29 luglio 2016
La Francia al palo
In assenza del dettaglio paese da parte di Eurostat, sulla debole crescita nell'eurozona sembra aver anzitutto pesato la stagnazione dell'economia francese oggi rivelata dall'ufficio statistico transalpino, che parla di PIL "stabile", dopo una crescita dello 0,7% registrata al primo trimestre. Tra i principali freni alla crescita francese, una brusca frenata di consumi e investimenti.
Stabilité du PIB au deuxième trimestre 2016 https://t.co/u61evvLkjA

— Insee (@InseeFr) 29 luglio 2016
Disoccupazione stabile da maggio
Stabile ai minimi dal luglio del 2011, la disoccupazione nell'Europa a 19 si è confermata poco al di sopra del 10%. Paesi più virtuosi, nel mese di giugno, sono stati Malta (4.0%), Repubblica Ceca (4.1%) e Germania. Fanalini di coda invece la Grecia (al 23.3% in base ai dati di aprile) e Spagna (19.9%).
June 2016: euro area unemployment rate stable at 10.1%, EU at 8.6% #Eurostat - https://t.co/uuZ0XKAMfYpic.twitter.com/DUveLbwe8q

— EU_Eurostat (@EU_Eurostat) 29 luglio 2016
L'Italia in controtendenza: la disoccupazione cresce (ma di poco)
I dati diffusi dall'Istat rivelano invece un lieve incremento della disoccupazione italiana, passata a giugno all'11,6%, dall'11,5% del mese precedente.
Qui il comunicato dell'Istat con i dati su occupati e disoccupati
A giugno tasso #disoccupazione 11,6%, +0,1 punti su maggio. Tasso di disoccupazione 15-24enni 36,5% (-0,3 punti) https://t.co/7qWs2Snjtl

— Istat (@istat_it) 29 luglio 2016