Incontro ravvicinato con Giove: ecco la prima fotografia scattata dalla sonda Juno
Commenti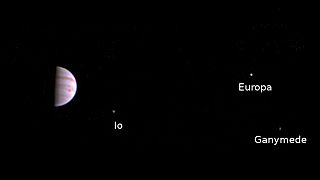 Questa è la prima fotografia dell'album di Giove, scattata dalla sonda Juno il 10 luglio, dopo il suo arrivo nell'orbita del pianeta. L'immagine è stata presa quando la sonda della Nasa si trovava a circa 4,3 milioni di chilometri dal pianeta, lungo la prima orbita di 53 giorni e mezzo.
Aww snap. My first in-orbit view of #Jupiter. Getting up close and personal again on Aug 27. https://t.co/Xw4VHVO6rJpic.twitter.com/b2FuTpriKf

—

NASA

's Juno Mission (@NASAJuno) 12 luglio 2016
Queste foto fanno parte di una campagna mirata allo studio dell'atmosfera del "gigante del nostro sistema solare", grande 318 volte più della Terra. Juno è arrivato nell'orbita del pianeta Giove, dopo un viaggio di quasi tre miliardi di chilometri, durato cinque anni. Per le immagini ad alta risoluzione bisognerà aspettare il 27 agosto quando ci sarà il prossimo passaggio ravvicinato.