Nba: Warriors nella storia e alle Finals, Thunder ko
Commenti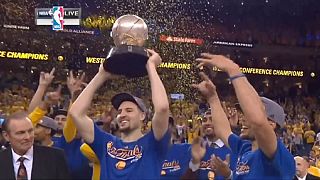 Golden State riscrive ancora una volta la storia, battendo 96-88 i Thunder in gara-7 e guadagnandosi il ritorno alle Finals per sfidare, da giovedì, LeBron James e i Cavs. Sotto 3-1 nella serie, tutti davano per spacciati i campioni in carica, che con un filotto di tre successi consecutivi sono diventati la decima formazione a compiere tale impresa.
The Dubs are the 10th team in NBA history to win a playoff series after trailing 3-1. #StrengthInNumberspic.twitter.com/bPk41a5MNK

— GoldenStateWarriors (@warriors) 31 maggio 2016
Ancora una volta il fulcro dei Warriors è stato Steph Curry. Il due volte MVP ha chiuso la serata in ufficio con 36 punti e 7/12 da tre, e nella serie contro Durant e compagni ha messo a segno ben 32 triple. Record battuto, ovviamente… I Thunder hanno tenuto botta per due quarti e mezzo, prima di arrendersi alla solita grandinata dall'arco dei campioni, con Thompson a 21 punti e l'ottimo apporto della panchina.
Hear from StephenCurry30</a>, <a href="https://twitter.com/KlayThompson">KlayThompson & Money23Green</a> following tonight&#39;s Game 7 win.<a href="https://t.co/Mp3PV8jDx3">https://t.co/Mp3PV8jDx3</a></p>&mdash; GoldenStateWarriors (warriors) 31 maggio 2016
L'Oracle Arena fa festa ancora una volta. Ma già si prepara alla grande sfida di giovedi', quando in California atterrerà un altro alieno: LeBron James con i suoi Cavs, a caccia di rivincite…