SpaceX: un altro successo per il Falcon 9
Commenti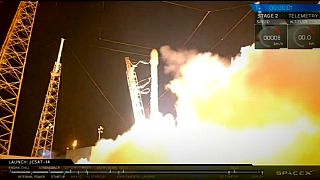 Un nuovo successo per il Falcon 9 che è riuscito ad atterrare per la seconda sulla piattaforma drone che lo attendeva nell'Atlantico, al largo della costa della Florida.
Landing confirmed. Second stage continuing to carry JCSAT-14 to a Geosynchronous Transfer Orbit. pic.twitter.com/HfHI5cwoYX

— SpaceX (@SpaceX) 6 maggio 2016
Launch photos here → https://t.co/vn4S8bV3×3pic.twitter.com/qPtXMlVNkt

— SpaceX (@SpaceX) 6 maggio 2016
Questa mattina il Falcon 9 ha portato un satellite giapponese in orbita geostazionaria. In festa l'azienda privata Space X che ha costruito il razzo e che non si aspettava questo risultato, il rientro controllato era stato definito "improbabile".