Squash: El Gouna International, in finale Elshorbagy-Gaultier
Commenti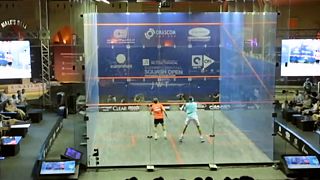 Nessuna sorpresa nelle semifinali dell'El Gouna International, torneo valido per le World Series di squash in corso in Egitto. A giocarsi il titolo saranno i primi due giocatori del ranking mondiale, Mohamed Elshorbagy e Gregory Gaultier.
Report: Masterclass from MoElshorbagy</a> to make3rd consecutive <a href="https://twitter.com/ElGounaSquash">ElGounaSquash Final https://t.co/V6d5bU3Add#squashpic.twitter.com/cpDH4MriR9

—

PSA

World Tour (@PSAWorldTour) 28 aprile 2016
L'egiziano, spinto dal caldissimo tifo di casa, ha superato per 3-0 Angel Rodriguez, concedendo al colombiano la miseria di 16 punti complessivi, al termine di un match durato poco piu' di mezz'ora. Elshorbagy andrà ora a caccia del suo quarto titolo stagionale e del terzo El Gouna consecutivo. "Devi concentrarti in ogni punto, perchè contro il numero 6 del mondo è sempre difficile – ha detto Elshorbagy -. Giocare in Egitto mi mette pressione, anche se allo stesso tempo posso sfruttare la grande carica del pubblico. Sono felice di essere nuovamente in finale"
"That's the first time he took a game off me, and the best he's played too …" Gregory Gaultier pic.twitter.com/jHgIynaMMi

— ElGounaSquash (@ElGounaSquash) 28 aprile 2016
Ha avuto vita piu' difficile Gregory Gaultier, che dopo essere andato sotto, ha battuto per 3-1 in rimonta l'egiziano Feres Dessouki, la cui resistenza è durata poco piu' di un'ora. Il francese tenterà di vendicare il ko subito dallo stesso Elshorbagy due settimane fa a Zurigo.