Nba: notte da record per il Golden State, 73 vittorie su 82 match
Commenti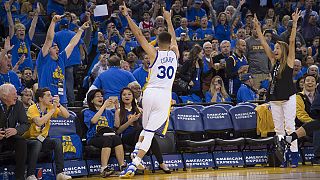 Il 13 aprile 2016 resterà una data chiave nella storia dell'Nba: quella del record di vittorie in una singola stagione conquistato dal Golden State: 73 su 82 match, una in più dei Chicago Bulls di Michael Jordan, 20 anni fa.
Contro i Memphis Grizzlies nell'ultima giornata della regular season il protagonista è Stephen Curry che segna 20 dei suoi 46 punti soltanto nel primo quarto.
Tonight was special. #73. We did something thats never been done in the History of the league. Together. So… pic.twitter.com/UuQkVL4RoR

— Stephen Curry (@StephenCurry30) 14 avril 2016
Il miglior giocatore della stagione 2014-15 ha realizzato dieci triple nel corso del match ed è diventato il primo giocatore di Nba a toccare quota 400 nel corso del campionato(402 per la precisione, a fine partita).
Curry ha battuto se stesso: gli apparteneva il record di 286 realizzato nella stagione precedente.
Contro il Memphis finisce 125-104 e i detentori del titolo, primi della Western Conference, affronteranno gli Houston Rockets sabato al primo turno dei playoff.