La grande fuga della piccola piovra Inky
Commenti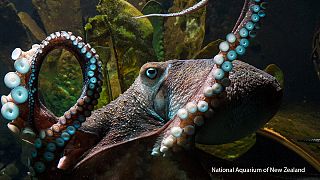 Forse la sua fuga è stata favorita da una dimenticanza, più difficilmente da un volontario atto "rivoluzionario". Lo sportello della sua vasca che potrebbe essere stato lasciato socchiuso avrebbe, infatti, dato il via alla nuova vita di Inki, piovra che da anni era imprigionata nell'acquario nazionale della Nuova Zelanda
Il personale dell'acquario di Napier, dettosi "triste" per aver trovato la vasca vuota mercoledì mattina, non ha ben chiaro come il cefalopode abbia potuto raggiungere il mare. Potrebbe aver "camminato" lungo il pavimento dell'acquario fino a un tubo di scarico lungo 50 metri che finisce direttamente nell'oceano, per la precisione nella baia di Hawke, nella costa orientale dell'isola settentrionale della Nuova Zelanda.
The great escape: Inky the crafty octopus has 'legged it' from his Napier aquarium https://t.co/vylX68hUWZpic.twitter.com/CCr106m3Uo

—

WWF

-New Zealand (@WWFNewZealand) April 12, 2016
Ma potrebbe aver avuto anche una via di fuga peggiore: un'altra tubazione, posta sopra la sua vasca, che conduce al di sotto della pavimentazione dell'acquario e, da lì, nelle fogne.
Inky, grande come una palla da rugby e tra le principali attrazioni dell'acquario, è stata definita dagli inservienti "insolitamente intelligente". Era stata portata all'acquario da un pescatore, che l'aveva trovata in cattive condizioni in mezzo a dei gamberi.
Octopus successfully escapes aquarium and makes its way to oceanhttps://t.co/PEnLqOmclEpic.twitter.com/iQPAjqBZuX

— Mashable (@mashable) April 13, 2016
Esclusa l'ipotesi di un rapimento. "Le piovre sono animali curiosi, avrà voluto vedere cosa c'era fuori" ha affermato Rob Yarrell, manager del National Aquarium in Napier. Chissà, forse poi vorrà pure tornare.