Calcio: esonerato Mihajlovic, Brocchi alla guida del Milan
Commenti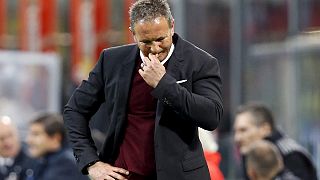 Si è chiusa qui, dopo la sconfitta casalinga di sabato contro la Juventus, l'avventura di Sinisa Mihajlovic sulla panchina del Milan. Il Presidente del club, Silvio Berlusconi, ha deciso lunedì sera di esonerare il tecnico serbo, a sei giornate dalla fine del campionato.
Gli scarsi risultati recenti, con due sconfitte consecutive, hanno portato al cambio di guardia anticipato.
Mihajlovic has been relieved of his role as #ACMilan coach. misterbrocchi</a> will now be in charge of the first team <a href="https://t.co/RJhel5Qj1w">https://t.co/RJhel5Qj1w</a></p>&mdash; AC Milan (acmilan) 12 aprile 2016
Prende il posto dell'ex giocatore della Lazio, Christian Brocchi. Il 40enne milanese, che ha chiuso la sua carriera da centrocampista tre anni fa proprio con i biancocelesti, era da due stagioni alla guida della Primavera rossonera.
Here are the first pics of misterbrocchi</a> and the Rossoneri at Milanello. Shortly more news, stay posted. <a href="https://t.co/CT6GpTgive">pic.twitter.com/CT6GpTgive</a></p>&mdash; AC Milan (acmilan) 12 aprile 2016