Usa 2016: Trump boicotta dibattito in Iowa, ma resta al centro delle polemiche
Commenti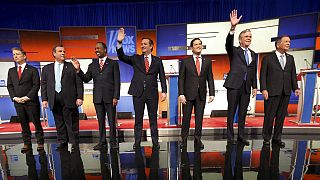 Forte di 7 punti di vantaggio, Dunald Trump evita i rivali repubblicani nell'ultimo dibattito in Iowa. La sua assenza su Fox News non gli ha comunque evitato di vestire il ruolo di protagonista.
The Republican presidential candidates address Donald Trump's absence at the Iowa #GOPDebatehttps://t.co/wC36IlqoESpic.twitter.com/EfyPAHu1Gv

—

BBC

News (World) (@BBCWorld) January 29, 2016
La vigilia del dibattito è infatti stata caratterizzata dalla rivelazione dell'emittente riguardo una richiesta di 5 milioni da parte di Trump per partecipare.
"Senatore Cruz, prima di iniziare, diciamo subito che l'elefante non nella stanza questa tasera – ha aperto la giornalista, Megyn Kelly, che Trump ha definito 'oca' – Donald Trump ha scelto di non partecipare al dibattito. Quale messaggio pensate arrivi agli elettori dell'Iowa?"
"Io sono un pazzo e tutti gli altri su questo palco sono stupidi, grassi e brutti – ha risposto Ted Cruz – E Ben Carson tu sei un chirurgo terribile. Ora abbiamo esaurito le battute di Donald Trump".
E mentre la rete sentenziava: 'che noia senza Trump', il re dell'immobiliare raccoglieva fondi per reduci di guerra, che sembrano non aver gradito: l'organizzazione "Veterani di Iraq e Afghanistan" ha respinto ogni donazione.
Trump's event was supposed to be about the veterans. It was not really about the veterans. https://t.co/zaQ9g5d3AApic.twitter.com/KEQ2sqKj5J

— The New York Times (@nytimes) January 29, 2016
Un nuovo bagno di popolarità per il candidato alle primarie repubblicane che, salvo sorprese, il primo febbraio vincerà in Iowa e sembra non avere rivali nel New Hampshire e in South Carolina.