Sì ai rifugiati, ma confiscando i beni e con trattenute sullo stipendio
Commenti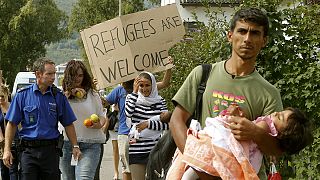 Accoglienza dei migranti sì, ma al prezzo della confisca di parte dei loro beni e con l'impegno a ripagare negli anni le prestazioni ricevute.
Mentre l'ONU si indigna per la proposta in discussione in Danimarca, una trasmissione televisiva dell'emittente SFR rivela che in Svizzera la pratica esiste da anni e, seppure poco applicata, segue regole anche più rigide di quelle sul tavolo a Copenaghen.
Switzerland joins Denmark in seizing assets from refugees to cover costs https://t.co/y3fsY4Tg96

— The Guardian (@guardian) 15 Gennaio 2016
In cambio di una ricevuta che ne permette il riscatto in caso di partenza entro sette mesi, ai rifugiati in arrivo in Svizzera è richiesto di consegnare denaro e beni che eccedano un valore pari a circa 915 euro. Coloro a cui viene concesso il permesso di lavoro, dovranno poi rimborsare fino all'equivalente di quasi 14.000 euro in dieci anni, con prelievi del 10% sullo stipendio.
Nel reportage della trasmissione "10 vor 10" che ha rivelato la pratica, un rifugiato siriano mostra una ricevuta che ha ottenuto in cambio della metà del denaro che gli era rimasto dopo aver pagato il viaggio per arrivare in Europa. Il filmato mostra inoltre una nota informativa destinata ai richiedenti asilo che recita: "Se possedete beni di valore eccedente ai 1000 franchi svizzeri, al vostro arrivo al centro d'accoglienza dovete consegnarli in cambio di una ricevuta". Lo stesso reportage sostiene però che la misura avrebbe finora avuto un'applicazione molto ridotta. Nel 2015, su un totale di 39.500 richiedenti asilo, avrebbe riguardato appena 112 persone e avrebbe permesso raccogliere 210.000 franchi svizzeri, una somma pari a poco più di 190.000 euro.