La Fifa sanziona Real e Atletico Madrid: fuori dal mercato per un anno
Commenti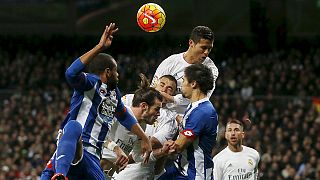 Real Madrid e Atletico Madrid fuori dal mercato per un anno, per aver violato il divieto di trasferimento internazionale di giocatori minorenni.
I due club spagnoli sono stati sanzionati dalla commissione disciplinare della FIFA.
Potranno fare acquisti fino a fine mese, poi saranno esclusi dal mercato estivo e da quello invernale, quindi fino a inizio 2017.
The protection of minors is of major importance for FIFA. FIFATMS</a> helps to ensure compliance with Regulations - <a href="https://t.co/krh0vV2D0i">https://t.co/krh0vV2D0i</a> 3/3</p>&mdash; FIFA Media (fifamedia) 14 Janvier 2016
Il Real avrebbe infranto il divieto fra il 2005 e il 2014 e dovrà pagare una multa di 328.000 euro. Sfumano dunque le ipotesi di un trasferimento di Cristiano Ronaldo al Manchester United o al Paris Saint Germain, salvo una partenza frettolosa del portoghese nei prossimi quindici giorni.
L'altro club della capitale spagnola avrebbe violato le regole in materia di trasferimento internazionale di minori fra il 2007 e il 2014, per questo è stato multato di 820.000 euro. I colchoneros hanno annunciato il ricorso.
Il primo club a essere sanzionato per lo stesso motivo con il divieto di reclutare per un anno, a partire da gennaio 2015,era stato il Barcellona.