Banchetto e cerimonia di gala: Stoccolma celebra i vincitori dei Nobel
Commenti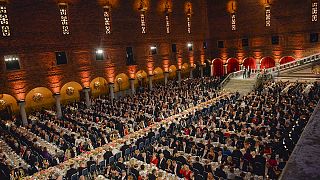 Vestita a festa la sua celebre sala dei concerti, Stoccolma ha celebrato i vincitori dei premi Nobel per le discipline scientifiche e la letteratura.
The class of 2015! 10 Laureates on stage at the #NobelPrize award ceremony in Stockholm today. pic.twitter.com/CiYMkz5mcx

— The Nobel Prize (@NobelPrize) 10 Dicembre 2015
Dal canadese Arthur McDonald, che ha condiviso quello per la fisica con il giapponese Takaaki Kajita, alla scrittrice e giornalista bielorussa Svetlana Alexievich, premiata con quello per la letteratura, sotto un tripudio di bandiere, in 10 hanno ricevuto dal re Carlo XVI Gustavo di Svezia il tradizionale diploma e la medaglia d'oro che accompagnano i riconoscimenti e il premio in denaro di un valore pari ad oltre 860.000 euro.
Mille e seicento gli invitati che hanno assistito alla cerimonia, in una sala fastosamente addobbata e colorata da 20.000 fiori offerti dalla città di San Remo, dove Alfred Nobel si spense il 10 dicembre 1896.
Transcripts of 2015 #NobelPeacePrize Lecture, National Dialogue Quartet: https://t.co/6ZkjM2A7eH (Arabic & English) pic.twitter.com/vvGB4FDnAY

— The Nobel Prize (@NobelPrize) 10 Dicembre 2015
Tempo di festeggiamenti anche in Norvegia per il Quartetto per il Dialogo nazionale tunisino, che dal balcone del Grand Hotel di Oslo ha salutato la folla intervenuta per celebrare con balli e canti il Nobel per la pace, che gli era stato consegnato in giornata.