Usa: candidato repubblicano Trump vuole divieto d'ingresso per tutti i musulmani
Commenti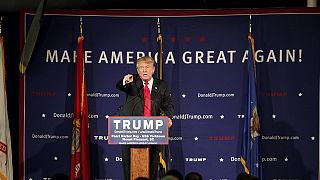 Impedire l'accesso agli Stati Uniti per i musulmani. È la soluzione offerta da Donald Trump candidato repubblicano alle presidenziali.
Il miliardario prestato alla politica ha deciso di sfruttare a piene mani, l'ondata di emozione provocata dal massacro di San Bernardino in California, e in un meeting politico si è espresso chiaramente circa la sua soluzione per garantire la sicurezza nazionale: "Voglio un divieto totale ai musulmani di entrare negli Stati Uniti fino a quando i nostri rappresentanti politici non riesciranno a capire che cosa sta succedendo. Non abbiamo scelta".
Ma la rete si scatena
ANTICHRISTTRUMP/SATAN GETTINGINTOUNCLETOMBENCARSON'S WANNABETHUG'S ASS. pic.twitter.com/Q7544mkzfl

—

SOULANAUT

(@SOULANAUT) December 8, 2015
La frase ha provocato polemiche. Fra le prime reazioni quelle della candidata democratica Hillary Clinton che ha criticato una scelta divisiva che va contro le basi su cui è fondata l'America.
Declaring war on Islam or demonizing Muslim Americans is not only counter to our values—it plays right into the hands of terrorists.

— Hillary Clinton (@HillaryClinton) December 8, 2015
Il messaggio di Trump, che è dato in ottima posizione rispetto a tutti gli altri candidati repubblicani, è recepito in modo diverso dagli elettori.
As a bipedal mammal, and as a person with hair growing out of my head, I repudiate the Paris attacks AND Trump's hatedumbness #NotInMyName

— Ehren E Turner (@deepskyfrontier) December 6, 2015
"Non sono d'accordo", dice quest'uomo, "L'America non è stata fondata su questo tipo di principi. È un paese per tutti, un mix. È quello che hanno detto i nostri padri fondatori. Non credo dobbiamo avere paura di alcun gruppo specifico che non rappresenta per niente la religione dell'Islam o i musulmani".
"Credo sia una buona idea, "obietta un altro, "rispetto a quello che sta accadendo nel mondo. È dura da ammettere, ma è così".
Alcuni però, su Twitter cercano anche di rispondere a Trump in modo argomentato, come questa ragazza
Young Muslim Posts Defiant Letter To Donald Trump #NOTINMYNAME#FightWithPeacehttps://t.co/H8YvUWoCSf#UniteBlue

— Progressive Push (@progressivepush) November 25, 2015