Omaggio degli Eagles of Death Metal davanti al Bataclan
Commenti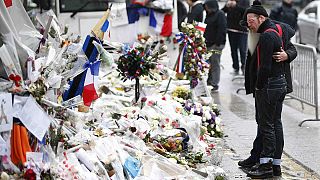 Meno di un mese fa, la sera del 13 novembre, erano sul palco del Bataclan. Gli Eagles of death metal sono tornati a Parigi per rendere omaggio alle vittime degli attacchi terroristici.
Jesse Hughes e compagni hanno deposto fiori davanti alle porte chiuse del locale e sono rimasti in raccoglimento una decina di minuti davanti a quello che è ormai diventato una specie di monumento ai morti negli attentati.
La band californiana riprende il suo tour europeo e ha chiesto di poter essere il primo gruppo a suonare nella sala non appena riaprirà.
Nella serata di lunedì gli Eagles of death metal erano stati ospiti degli U2, in concerto all'Accor Arena di Bercy, alle porte della capitale francese. È stata la loro prima esibizione in pubblico dopo lo shock della sparatoria.
Lilia Rotoloni