Crashed Ice: in Canada vincono Cameron Naasz e Myriam Trepanier
Commenti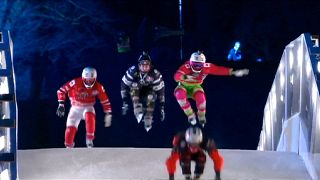 Si è aperta a Quebec city, in Canada la stagione del Crashed Ice.
Su una pista ghiacciata larga pochi metri, con curve e dossi, si sfidano quattro pattinatori alla volta, lanciati a cinquanta chilometri orari.
Anche per il campionato del Mondo 2015/2016 si profila una lotta a tre. La prima vittoria è andata infatti allo statunitese Cameron Naasz, che lo scorso anno, in classifica generale, ha concluso al secondo posto. Alle sue spalle i due atleti di casa: Dean Moriarity e Scott Croxall, detentore del titolo mondiale.
So pumped to start the season off with a win. teamltd_</a> extended their winning streak to 3 in a row… <a href="https://t.co/zis5jJdvlq">https://t.co/zis5jJdvlq</a></p>&mdash; Cameron Naasz (CameronNaasz) 28 Novembre 2015
Al via anche il campionato del Mondo femminile con le canadesi che hanno fatto razzia di medaglie. Oro a Myriam Trepanier, argento per Maxie Plante e bronzo per Elaine Topolnisky.
Prossima tappa a gennaio a Monaco di Baviera, in Germania.
The winners: Myriam Trepanier and CameronNaasz</a> <a href="https://twitter.com/hashtag/crashedice?src=hash">#crashedice</a> Quebec <a href="https://t.co/7iDHFChOsN">pic.twitter.com/7iDHFChOsN</a></p>&mdash; Red Bull Crashed Ice (CrashedIce) 29 Novembre 2015