Euro 2016: Irlanda del Nord e Portogallo fanno festa, passo falso Germania
Commenti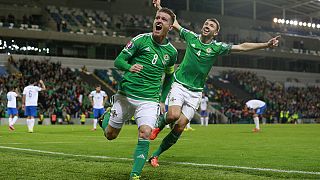 La Germania deve rimandare la festa qualificazione a Euro 2016. I campioni del mondo, capolisti del gruppo D, cadono a sorpresa in Irlanda (1-0). Decisiva la rete realizzata da Long al 70'. La nazionale di Martin O'Neill aggancia al secondo posto la Polonia, salvata da una doppietta di Lewandowski in Scozia (2-2). Alla Germania basterà comunque battere in casa la Georgia lunedì prossimo per centrare la qualificazione.
All the results as Portugal and Northern Ireland qualify for #EURO2016! pic.twitter.com/YRviP1arG6

—

UEFA

EURO

2016 (@UEFAEURO) 8 Ottobre 2015
Impresa storica dell'Irlanda del Nord, che grazie al 3-1 sulla Grecia centra la sua prima qualificazione a una fase finale dell'Europeo. Un successo firmato dalla doppietta di Davis e dalla rete di Magennis. La Romania, salvata da un gol di Hobas nel finale, pareggia 1-1 con la Finlandia e vede avvicinarsi l'Ungheria, che batte 2-1 in rimonta le Far Oer.
Una rete di Joao Moutinho spalanca al Portogallo le porte della Francia. I lusitani battono 1-0 la Danimarca, il centrocampista del Monaco firma il gol vittoria al 66'. L'Albania cade 2-0 contro la Serbia, a segno nei minuti di recupero con Kolarov e Ljajic. Nonostante il ko la nazionale di De Biasi è però ancora in piena corsa per il secondo posto: le basterà vincere in Armenia domenica prossima per ottenere la qualificazione.