AirShow di Shoreham: "Probabili nuove vittime dalle macerie"
Commenti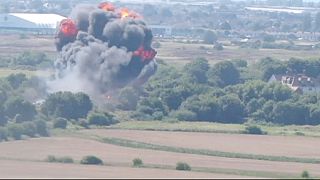 Sono salite a 11 ma sembrano destinate ad aumentare ancora, le vittime dell'incidente aereo avvenuto sabato durante un'esibizione acrobatica all'Airshow di Shoreham, nel sud del Regno Unito.
A preparare al peggio è la polizia del Sussex, che ha definito "abbastanza probabile" il rinvenimento di ulteriori cadaveri. Momento della verità potrebbe essere l'intervento delle gru, chiamate oggi a rimuovere i rottami dell'aereo dalla strada nazionale su cui si è schiantato.
In corrispondenza del luogo della tragedia, sulla trafficata strada nazionale A27 continuano intanto a moltiplicarsi gli omaggi alle vittime.
Floral tributes left on A27 after #Shoreham crash, which is thought to have killed at least 11 http://t.co/zumUtTf09Opic.twitter.com/gqMgKVK79i

— ITV News (@itvnews) 23 Agosto 2015
Il jet, un vecchio monoposto Hawker Hunter, non è riuscito a completare una manovra acrobatica, finendo per travolgere e far esplodere, nell'impatto, diverse auto che erano in transito.
La polizia del Sussex non si è finora sbilanciata sulle possibili cause dell'incidente, preferendo sottolineare l'impatto dell'accaduto sulla comunità locale e la cordata di solidarietà improvvisata dai residenti.
For the latest on yesterday's tragic aircraft crash in #Shoreham please see our vid from @ACCSteveBarry: https://t.co/Em4yM6IPo7

— Sussex Police (@sussex_police) 23 Agosto 2015
Lo Shoreham Airshow non è nuovo a simili incidenti. Già nel 2007 Brian Brown, un pilota che in passato aveva lavorato come stuntman nel film di James Bond, "Il domani non muore mai", era rimasto ucciso in seguito a una maldestra acrobazia.