Rugby Championship: Australia-Nuova Zelanda, sfida per il titolo
Commenti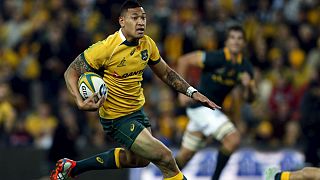 Australia e Nuova Zelanda si affrontano sabato a Sydney nell'ultima giornata del Rugby Championship. Le due nazionali guidano a punteggio pieno la classifica del torneo a cui partecipano anche Sudafrica e Argentina: la gara in programma allo stadio Olimpico sarà dunque decisiva per l'assegnazione del titolo.
Australia v N.Zealand Rugby Championship Preview: Out of the last six Rugby Championship matches… http://t.co/Akp6tAfmqU#RugbyChampionship

— Rugby Championship (@RugbyChampship) 6 Agosto 2015
Gli All Blacks hanno vinto le ultime tre edizioni del torneo, tutte quelle disputate da quando il numero delle partecipanti è stato allargato a quattro squadre con l'inserimento dell'Argentina.
Davanti al proprio pubblico i Wallabies proveranno a rompere un digiuno che dura dal 2011, anno del trionfo nell'ultima edizione del Tri Nations.
La gara è anche un gustoso antipasto del Mondiale in programma tra poche settimane in Inghilterra, dove Australia e Nuova Zelanda sono tra le protagoniste più attese.