Fermezza contro la Russia dal G7 in Germania
Commenti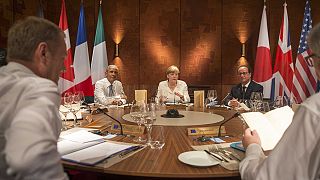 L'elite mondiale in isolamento sulle montagne bavaresi per il G7 di Elmau, Germania, opta per la linea della fermezza contro la Russia di Vladimir Putin.
Il Presidente degli Stati Uniti Barack Obama, ospite di Angela Merkel assieme ai leader di Francia, Regno Unito, Canada, Giappone e Italia, ha chiarito: contrasteremo con fermezza l'aggressione all'Ucraina.
Behind the scenes of the G7</a> summit in <a href="https://twitter.com/hashtag/Elmau?src=hash">#Elmau</a>. During 2nd working session, <a href="https://twitter.com/hashtag/G7?src=hash">#G7</a> leaders looked at <a href="https://twitter.com/hashtag/trade?src=hash">#trade</a>+<a href="https://twitter.com/hashtag/standards?src=hash">#standards</a>. <a href="http://t.co/wfBFK3CFfc">pic.twitter.com/wfBFK3CFfc</a></p>&mdash; GermanForeignOffice (GermanyDiplo) 7 Giugno 2015
"Credo che manderemo un messaggio unitario" ha puntualizzato la Cancelliera Merkel. "Le sanzioni non devono essere fine a sè stesse, vengono applicate quando è necessario. Abbiamo sempre detto che l'estensione o la sospensione delle sanzioni dipende dal rispetto e dal rafforzamento degli accordi di Minsk".
Tra i grandi temi all'ordine del giorno del G7 l'ondata d'immigrazione attraverso il Mediterraneo, il cambiamento climatico, la crisi ellenica e la minaccia dell'estremismo internazionale.
Nei giorni scorsi le numerose manifestazioni contro il G7 avevano lasciato temere tensioni crescenti. Una marcia di protesta è giunta fino al cordone che circonda l'area di sicurezza senza che si siano verificati incidenti.