Vita da cani. L'Australia minaccia di morte i quattrozampe di Johnny Depp: entrati illegalmente
Commenti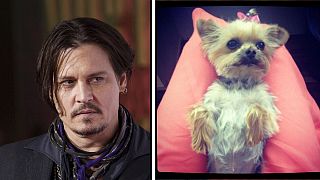 Se non torneranno a casa in California, rischiano di essere soppressi Boo e Pistol, i due Yorkshire Terrier di Johnny Depp che l'attore statunitense ha fatto entrare illegalmente in Australia.
L'ultimatum è stato emesso dal ministro dell'Agricoltura di Canberra, sulla base della constatazione che il divo non ha rispettato il protocollo di quarantena che regola l'ingresso degli animali nel Paese.
Depp, che si trova nel Queensland per girare un nuovo capitolo della saga cinematografica Pirati dei Caraibi, ha portato con sé i due Yorkshire a bordo di un jet privato, senza darne segnalazione alle autorità australiane.
"Se lasciassimo correre perché si tratta di una stella del cinema, allora dovremmo farlo per tutti", ha commentato il ministro Barnaby Joyce.
La soppressione è un provvedimento che a molti in Australia pare decisamente eccessivo, anche se in linea con le direttive severissime che il Paese applica da tempo, su questo come su altri temi. E' molto improbabile, tuttavia, che venga attuato davvero. Una petizione online è già stata promossa per chiedere al governo di salvare i cani. E le firme stanno aumentando rapidamente.
Come sono state informate le autorità australiane?
Qualcuno ha fotografato Boo e Pistol quando l'attore li ha portati presso il centro benessere per cani Happy Dogz e ha twittato la notizia.
#PHOTOS: Groomers at Happy Dogz in Gold Coast w/ Amber Heard's dog Pistol and Boo. They arranged for an appointment! pic.twitter.com/Q9Tcup00wO

— Amber Heard Updates (@AmberHeardNews) May 12, 2015
Cosa ne pensa la gente?
Surely we could just hold Johnny Depp's dogs in some kind of offshore facility until their claims can be processed and accurately assessed?

— Adam Liaw (@adamliaw) May 14, 2015
Should Depp be fined? yes. Should the dogs be put down? No Should we be rushing to help #Refugees stranded at sea? HELLYES#auspol

— Jansant (@Jansant) May 14, 2015
Tempting to think Johnny Depp should call the Australians bluff. There is no way they will kill the dogs .

— neil mullane finn (@NeilFinn) May 14, 2015
Leave Boo & Pistol alone. If you put them down Johnny Depp will not return to Australia. Are we willing to risk no Johnny

— Christian Anthony (@ChristianAntho) May 14, 2015
I'm prepared to take in Johnny Depp's dogs, but it's gonna cost him. He'll need to do the Edward Scissorhands thing to my front hedge.

— Andrew Voss (@AndrewVossy) May 13, 2015
La satira si scatena
Sul web si diffonde l'hashtag #WarOnTerrier
So what does Australia's #1 Fixer Terrior / Poodletician cross cpyne</a> have to say about the <a href="https://twitter.com/hashtag/WarOnTerrier?src=hash">#WarOnTerrier</a>? <a href="http://t.co/v9KNn3aC8t">pic.twitter.com/v9KNn3aC8t</a></p>&mdash; Gareth Davidson (red_cordial) Mayo 14, 2015
Turn them back! #WarOnTerrierpic.twitter.com/oWss1kG34s

— Chris Chamberlin (@popculturechris) Mayo 14, 2015
We can't afford a Lassie faire attitude to the importation of illegal dogs. #WarOnTerrier

— Stu Diligence (@StuDiligence) Mayo 14, 2015
E' partito il conto alla rovescia
Il quotidiano britannico Guardian ha attivato un countdown live per misurare il tempo che rimane ai due Yorkshire di Johnny Depp prima che scatti la soppressione.