Addio a Ben E. King, autore e interprete di "Stand by me"
Commenti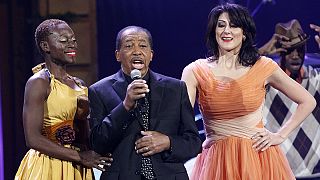 Il mondo del soul e del rhythm and blues perde uno dei suoi protagonisti. Si è spento a 76 anni Ben E. King, autore di "Stand by me", tra i brani più famosi del ventesimo secolo.
Nato nella Carolina del Nord, Ben E. King comincia a cantare in un coro gospel. A 14 anni si trasferisce a New York con i genitori e a 20 entra a far parte dei Drifters con i quali registra canzoni di successo come "There goes my baby" e "Save The Last Dance for Me".
"Stand by me" esce nel 1961, quando King è ormai solista. Tante le sue cover, tra cui quella di John Lennon. Quella italiana è firmata da Adriano Celentano, "Pregherò", del 1962. Due anni prima della partecipazione di Ben E. King al Festival di Sanremo in coppia con Tony Dallara.