SportAccord Euronews Awards: Alex Zanardi è lo 'sport hero' del 2014
Commenti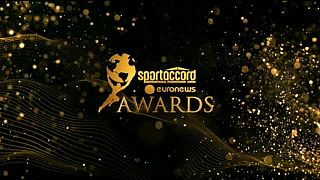 Serata di gala a Sochi, dove si è svolta la prima edizione degli SportAccord Euronews Awards. Nel corso dell'evento sono stati premiati alcuni dei migliori atleti del 2014.
La cerimonia si è aperta con un omaggio ad alcuni grandi dello sport, tra cui Nadia Comaneci e Lothar Matthaus. Il premio per la migliore atleta femminile è andato alla canadese Kaillie Humphries, vincitrice di due ori olimpici nel bob a due e prima donna a entrare nell'equipaggio di un bob a 4 misto.
A little photo of our Sportswoman of the year. Congrats again to BobsledKaillie</a> - Enjoy the <a href="https://twitter.com/hashtag/SAAwards?src=hash">#SAAwards</a> <a href="https://twitter.com/sportaccord">sportaccordpic.twitter.com/V1QAMJ7BKr

— sportaccord (@sportaccord) 23 Aprile 2015
In campo maschile ha trionfato Mariusz Wlazly, che l'anno scorso con la sua Polonia ha vinto il Mondiale di pallavolo ed è stato nominato MVP del torneo.
A round of applause for faithhopelove_6</a> as he wins the Sportsman award tonight! Bravo <a href="https://twitter.com/FIVBVolleyball">FIVBVolleyball#SAAwardspic.twitter.com/04AYgCyWyA

— sportaccord (@sportaccord) 23 Aprile 2015
Tra i premiati anche Alex Zanardi, che assieme al judoka francese Teddy Riner ha ricevuto lo Sport Hero Award, premio dedicato agli atleti che nel 2014 si sono distinti per il loro coraggio e per la loro capacità di non arrendersi mai.
Sochi si è aggiudicata il premio per la migliore organizzazione di eventi sportivi, battendo la concorrenza di Rio de Janeiro, Varsavia e Glasgow. Nel 2014 la città sulle rive del Mar Nero ha ospitato i Giochi Olimpici invernali, le Paralimpiadi, una tappa del Mondiale di Formula 1 e i Mondiali di scacchi.
La federazione internazionale di netball ha vinto lo Spirit of Sport Award per la campagna di sensibilizzazione sulla salvaguardia dei bambini che praticano attività sportive, organizzata con il patrocinio dell'Unicef.