Judo: sudocoreani padroni in casa. Con qualche fiammata francese
Commenti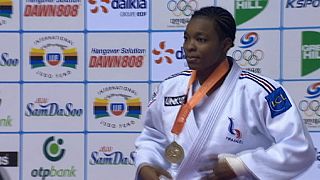 Giornata trionfale per i padroni (e le padrone) di casa al Gran Prix di Judo di Jeju. Risuonato più volte, l'inno della Corea del Sud ha accompagnato fra le donne al di sopra di 78kg addirittura un derby. A spuntarla su Lee Eun-Ju, è stata alla fine la connazionale Kim Jiyoun, già bronzo a Parigi.
Uno strapotere annunciato dal dominio dei padroni di casa, che la Federazione Internazionale di Judo già annunciava su Twitter alla vigilia.
Hosts Korea have won seven medals so far including three gold. How will they fare on the last day? #JudoJeju2014pic.twitter.com/QdGmsJpqkN

— Int. Judo Federation (@IntJudoFed) 29 Novembre 2014
Successo sudcoreano anche sul fronte maschile, dove nella categoria al di sotto dei 90kg, il beniamino di casa Gwak Dong Han non si smentisce e, imponendosi sull'azero Mammadali Mehdiyev, bissa in scioltezza l'oro dello scorso anno.
Lo strapotere sudcoreano si ripete anche al di sotto dei 100kg dove a brillare è Cho Guham: ventiduenne che, dopo il bronzo dei Giochi Asiatici, si è appeso al collo anche l'oro che gli ha regalato il successo sul mongolo Tuvshinbayar.
DAY 3 RESULTS: Find out all the medallists on the last day of #JudoJeju2014 -> http://t.co/cQ2CPJNdEcpic.twitter.com/D5AcqHTnsI

— Int. Judo Federation (@IntJudoFed) 29 Novembre 2014
WATCH: @teddyriner books his place in the final by wazari-awasette-ippon #JudoJeju2014pic.twitter.com/gbnizG6ziv

— Int. Judo Federation (@IntJudoFed) 29 Novembre 2014
A rompere monotonia e strapotere dei padroni di casa è il trionfo del francese Teddy Riner, nella categoria al di sopra dei 100kg. Unica nota d'amarezza, il fatto che a regalargliela sia stata la penalità inflitta al coreano Kim Sung-Min, che si era rifiutato di combattere.
Altro oro francese tra le donne di meno di 78kg, dove la vittoria di Audrey Tcheumeo sulla tedesca Luise Malzahn è tornata a far risuonare le note della Marsigliese.