Pensare in modo creativo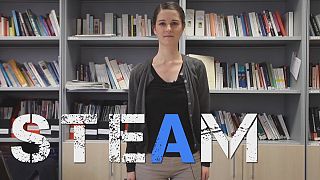 Somalia: lo studio della scienza come antidoto contro la povertà
Anni di crisi politica nell'enclave del Somaliland, nel Corno d'Africa, hanno alimentato una povertà diffusa. Per formare la classe dirigente del futuro, la Abaarso school of Science and Technology punta sull'insegnamento delle discipline STEM, acronimo inglese per scienze, tecnologia, ingegneria e matematica.
Francia: design e scienza
Un paio di mesi fa, un team di ricerca francese ha vinto il concorso scientifico iGEM organizzato dal MIT di Boston con un progetto sulla lotta contro la tubercolosi. Per meglio comunicare i frutti del loro lavoro, i ricercatori si sono avvalsi della collaborazione di una designer.
Messico: scienza e arte non si escludono a vicenda
Divulgare la scienza attraverso gli audiovisivi, la musica e l'arte. E' la missione dell'astronomo José Francisco Salgado. Con 90 performance in 14 paesi diversi, ha raggiunto un pubblico di circa 15mila persone.