In Brief: Investimenti ING in olio di palma, protesta attivisti a Bruxelles
Commenti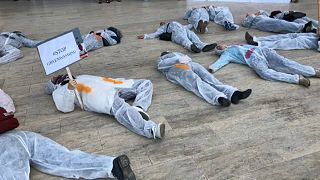 "NO agli investimenti tossici della banca ING".
Questo è il messaggio di circa 30 attivisti che hanno protestato martedi a Bruxelles davanti alla sede della banca del gruppo olandese.
Inscenando un "die-in" e esibendo cartelloni per la salvaguardia dei diritti umani, i dimostranti delle ONG promotrici della protesta (tra cui Friends of the Earth Europe e FIAN), di matrice ambientalista, hanno denunciato gli investimenti di olio di palma della banca in diversi Paesi, tra cui la Sierra Leone (dove ING finanzia la produzione della società SocFin). 
A detta dei protestanti, si tratterebbe di operazioni a danno dell'ambiente e dello sviluppo sostenibile.
Nel mirino anche la campagna di "investimenti sostenibili" della banca, che risultano promuovere il fenomeno del "greenwashing".
Danielle Van Oijen, responsabile del programma di Friends of the the Earth - Paesi Bassi, ha affermato che "L'olio di palma porta alla deforestazione, porta all'accaparramento della terra, porta a molte violazioni dei diritti umani. E la corporate ING dovrebbe smettere di finanziare l'olio di palma".
In una e-mail inviata ad Euronews, un portavoce di ING ha scritto: "ING da molta importanza al rispetto dei diritti umani" - "Come regola generale, quando ING viene informata su problemi come questi, il Gruppo si impegna per trovare una soluzione."