Legge di bilancio: Bruxelles chiede all'Italia di rispettare i trattati
Commenti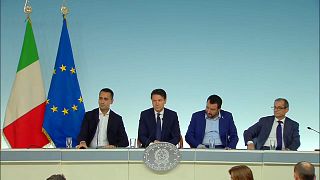 L'Italia non è la Grecia ma Roma deve rispettare le leggi.
Così il presidente della Commisione europea, Jean Claude Junker, qualche ora dopo la finalizzazione della bozza del documento con le misure della manovra di bilancio del governo italiano
A alcuni media Junker ha dichiarato, "un'eventuale derapage italiano rispetto ai trattati,   potrebbe innescare una reazione aggressiva da parte degli altri partner europei".
L'Italia non è come la Grecia, ma il rapporto italiano debito/Pil,in ogni caso, resta il secondo peggior dell'Unione europea. E peggio fa soltanto la Grecia.
L'analista Georg Kirchsteiger - European Center of Advanced Research in Economics and Statistics, LuB - mette in guardia: 
"La voce che gira è che si potrebbe obbligare gli altri Paesi dell'eurogruppo a assorbire una parte del debito italiano, cosa che non ritengo possibile, ma bastano voci di questo tipo per avere un risvolto negativo". 
Pìù cauto il presidente dell'eurogruppo Mario Centeno, che chiede di non sovrastimare gli effetti della manovra di bilancio italiana.
"L'Euro è molto resistente e difficilmente la legge di bilancio di un Paese può scalfirlo". 
Nel summit europeo di mercoledì alcuni stati membri vogliono comunque portare all'attenzione dei 27 il caso Italia.