California, incendio senza fine: "Apple Fire" provocato dall'autocombustione di una vettura diesel
Commenti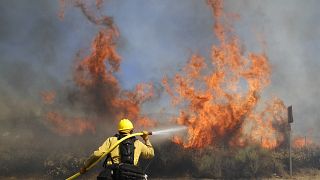 Diritti d'autore

Marcio Jose Sanchez/Copyright 2020 The Associated Press. All rights reserved.

-
"Apple Fire" è un osso duro.
In California continua la battaglia tra pompieri e incendi.
Il rogo principale è sempre quello ribattezzato "Apple Fire", nella Cherry Valley, nella contea di Riverside, divampato venerdi e tuttora esteso circa 108 km quadrati.
Sotto minaccia
Secondo il California Department of Forestry and Fire Protection, solo il 7% dell'incendio è da considerarsi sotto controllo.
La causa del rogo è attribuita ad una vecchia automobile diesel malfunzionante letteramente esplosa e che ha dato origine alla prima scintilla dell'incendio.
E' avvenuto ai bordi della superstrada di Santa Clarita, città a circa 50 km a nord di Los Angeles.
Il perimetro dell'incendio è talmente ampio che persino zona a 100 km di Los Angeles si sentono sotto minaccia.
Caccia al proprietario dell'auto che ha causato l'incendio
Il Dipartimento forestale della California, con l'aiuto delle forze dell'ordine, hanno emanato un avviso di ricerca per il proprietario della vettura incendiata.
Si cercano testimoni che circolavano sulla Oak Glen Road proprio venerdi pomeriggio, attorno alle 16.55.
"Una zona quasi inaccessibile anche per i nostri bulldozer"
Famiglie sfollate
2.586 famiglie, per un totale di 27.800 persone, sono già state fatte evacuare. E non si sa ancora quando potranno tornare nelle loro case.
Tutti gli sfollati sono stati trasferiti nei centri di accoglienza messi a disposizione delle autorità della California, nel rispetto delle normative anti Covid-19.