Night of the Jumps: Ackermann vince a Wuhan
Commenti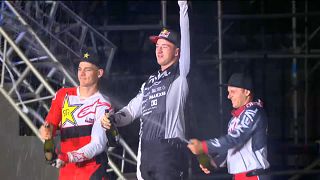 I migliori piloti del Freestyle Motocross World Championship si sono esibiti a Wuhan, in Cina.
Il tedesco Luc Ackermann vince la Night of the Jumps, davanti allo spagnolo Melero e all'australiano Adelberg.
Ackermann ha guadagnato il massimo dei voti al cospetto dei rivali, e nonostante la presenza in gara di tre campioni del mondo: il ceco Podmol, il transalpino Bizouard e lo stesso Melero.