Trump:"ottimi rapporti" con Duterte
Commenti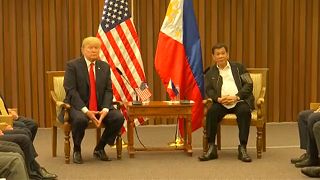 Donald Trump li ha definiti "ottimi" i rapporti con il suo omologo filippino Rodrigo Duterte durante l'incontro tra i due leader a margine del summit dell'Asean, a Manila. Soltanto un breve riferimento alla violazione dei diritti umani, secondo i funzionari di Washington, smentito dal portavoce di Duterte. Trump era stato sollecitato ad assumere una linea dura contro il leader filippino e la sua guerra sanguinosa conrto il narcotraffico.
Non si è parlato di diritti umani ha detto il portavoce del Presidente filippino che ha aggiunto, non c'è stato alcun riferimento alle uccisioni illegali, piuttosto una discussione sulla guerra al traffico di droga con il presidente Duterte che ha spiegato la situazione
White House says Trump "briefly" mentioned human rights to Duterte, but Duterte denies it came up: https://t.co/ULHatdAxpXpic.twitter.com/ofha0oWtUY

— The Hill (@thehill) 13 novembre 2017
Manila è l'ultima tappa del tour asiatico di Trump, giunto nelle Filippine in occasione del vertice dei leader dell'Associazione delle Nazioni del sud est asiatico. Non è mancata una nota di colore. Nel bel mezzo di una cena alla presenza dei 20 leader mondiali, Duterte ha duettato con una pop star filippina, cantando una canzone in onore di Trump.