Trump in Cina, tra Pyongyang e commercio
Commenti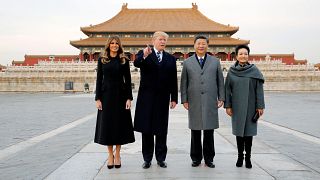 E' in Cina la nuova tappa del viaggio del presidente degli Stati Uniti Donald Trump, impegnato in un lungo tour dell'Asia. Dopo la visita in Corea del Sud, Trump è arrivato a Pechino con la First Lady Melania, e si è subito diretto alla Città proibita accompagnato dal presidente Xi Jinping e dalla moglie.
.POTUS</a> and <a href="https://twitter.com/FLOTUS?ref_src=twsrc%5Etfw">FLOTUS explore Beijing's Forbidden City with the Chinese President and First Lady. #POTUSinAsiapic.twitter.com/RTJpnAKmYU

— Department of State (@StateDept) 8 novembre 2017
C'è sempre la Corea del Nord in cima alla lista degli argomenti da discutere nella due giorni in Cina, oltre al deficit commerciale con Pechino. Secondo fonti statunitensi Trump farà pressioni sul presidente cinese perchè tagli i legami finanziari con Pyongiang.
Proprio al leader norcoreano Kim Jong Un Trump si è rivolto nel suo discorso al parlamento di Seul, in Corea del Sud. "Oggi, spero di parlare non solo per i nostri Paesi, ma per tutte le nazioni civilizzate, quando dico al Nord: Non ci sottovalutate e non ci mettete alla prova", ha detto. Intanto fuori dal Parlamento manifestanti si sono riuniti per protestare contro la visita del presidente statunitense e le sue politiche.