Catalogna: in piazza pro e contro indipendenza
Commenti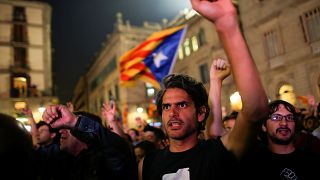 Sono scesi in piazza a festeggiare venerdì sera, bandiere catalane in mano, i sostenitori dell'Indipendenza. Dopo che il parlamento della regione ha votato l'entrata in vigore della legge di fondazione della Repubblica. Votazione definita dal premier Rajoy un "atto criminale" . 17 mila le persone secondo la Guardia Urbana radunate per le strade della capitale Barcellona per celebrare l'indipendenza.
Video of #Catalonia pro-independence supporters in #barcelona cheering upon announcement of Independence from #Spainpic.twitter.com/Vw20hRGdj4

— Sophia D. ✌ (@MsSophiaDobson) 27 ottobre 2017
La Catalogna sempre più divisa nelle stesse ore a sfilare anche chi non è d'accordo con l'esito del voto parlamentare. Accanto all'estelada catalana c'è chi sventolava la bandiera nazionale spagnola. Per quest'ultimi fondamentale è l'appello all'unità, dopo che il governo di Madrid ha deciso di sciogliere il parlamento e destituire il presidente Puigdemont. Rajoy ha anche annunciato nuove elezioni nella regione autonoma fissate il prossimo 21 dicembre per dare, ha detto il premier, il voto ai catalani.