Premio Nobel per la Fisica alla scoperta delle onde gravitazionali
Commenti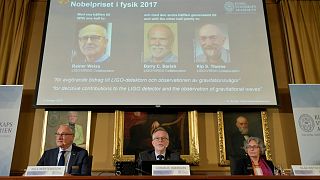 Il Premio Nobel per la Fisica 2017 è stato assegnato a Kip Thorne, Barry Barish e Rainer Weiss per la scoperta delle onde gravitazionali. L'accademia di Stoccolma ha anche menzionato le collaborazioni internazionali Ligo e Virgo.
Questo fenomeno, previsto da Einstein con la teoria della relatività, è stato osservato per la prima volta nel 2015 dall'antenna americana Ligo. Una seconda osservazione è stata confermata lo scorso agosto
dall'antenna italiana Virgo, lo strumento dell'Istituto Nazionale di Fisica Nucleare (Infn) che si trova a Càscina, in provincia di Pisa, e che è stata menzionata nell'annuncio del premio.
I tre vincitori sono tutti statunitensi. Barry Barish 81 anni, del California Institute of Technology e Kip Thorne 77 anni, dello stesso istituto, divideranno metà del premio. Thorne era anche stato il consulente scientifico del film Interstellar. L'altra metà, pari a 940mila euro, va a Rainer Weiss 85 anni, nato in Germania, del Massachusetts Institute of Technology.