Siria: raid coalizione a guida Usa ferma il trasferimento di jihadisti
Commenti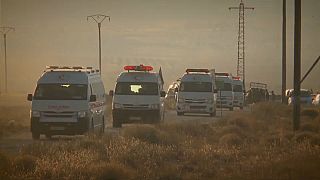 In siria i caccia della coalizione internazionale a guida statunitense hanno bombardato la strada che collega Qalamoun e Deir ez-Zor, impedendo il trasferimento dei combattenti jihadisti diretti verso la parte orientale del paese. L'inviato degli stati Uniti per la coalizione internazionale contro lo Stato islamico, Brett McGurk, ha scritto su Twitter che "i terroristi irremovibili dovrebbero essere uccisi sul campo di battaglia e non trasportati a bordo di autobus per tutta la Siria verso il confine iracheno senza il consenso dell'Iraq".
Irreconcilable #ISIS terrorists should be killed on the battlefield, not bused across #Syria to the Iraqi border without #Iraq's consent 1/2

— Brett McGurk (@brett_mcgurk) 30 agosto 2017
Una critica aperta all'accordo raggiunto tra l'esercito libanese, quello di Damasco e le milizie Hezbollah con cui jihadisti hanno accettato l'evacuazione, restituendo al governo libanese i corpi di nove soldati rapiti nel 2014 e uccisi.