Rimosso da Trump il direttore della comunicazione Anthony Scaramucci
Commenti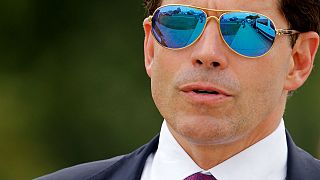 È durato appena 10 giorni il suo incarico da direttore della comunicazione della Casa Bianca: Anthony Scaramucci è stato rimosso dal presidente Donald Trump. Primi a darne la notizia Politico e il Ney York Times.
Scaramucci was expected to announce his new communications team Monday afternoon. Instead, he was ousted. https://t.co/XEhxvwkFxdpic.twitter.com/vIoFS9lgCP

— POLITICO (@politico) 31 luglio 2017
Scaramucci boasted about reporting directly to Trump and not John Kelly. It was Kelly's decision to remove him.https://t.co/DM9I8E9SiR

— The New York Times (@nytimes) 31 luglio 2017
Qui lo scarno comunicato della Casa Bianca
Secondo il New York Times, Scaramucci, che la settimana scorsa aveva fatto scalpore a causa di una telefonata in cui insultava vari collaboratori di Turmp, è stato licenziato su richiesta del nuovo segretario generale della Casa Bianca, John Kelly.
Qui la folle telefonata di alcuni giorni fa, in cui Scaramucci si era scagliato contro un reporter del New Yorker, dando al capo dello staff della Casa Bianca del "paranoico" e "schizofrenico".