Siria, combattenti LGBT contro i militanti dello Stato Islamico
Commenti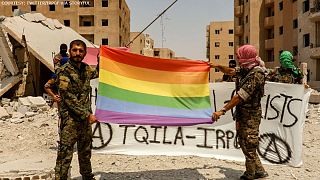 Tra i gruppi che combattono contro i militanti dello Stato Islamico in Siria ci sarebbe anche un'unità speciale LGBT, composta da attivisti omosessuali, bisessuali e transgender. Lo ha annunciato su Twitter un gruppo anarchico composto da combattenti stranieri, "Le Forze Di Guerriglia Popolare Internazionale Rivoluzionaria", che afferma di voler combattere le discriminazioni operate dai membri dello Stato Islamico.
These Faggots Kill Fascists! We shoot back! The Black & Pink and Rainbow flag fly in Raqqa. #Queers smashing the Caliphate. #TQILA#YPJ#YPGpic.twitter.com/eBCssrbjMI

—

IRPGF

(@IRPGF) July 24, 2017
Secondo alcuni media internazionali il gruppo LGBT, chiamato Queer Insurrection and Liberation Army (TQILA), ha spiegato di aver deciso di agire in risposta alle discriminazioni operate dai combattenti dello Stato Islamico. Heval Rojhilat, portavoce di TQILA, in un'intervista con Newsweek non ha voluto rivelare il numero dei componenti dell'unità per motivi di sicurezza.
In un comunicato pubblicato su Twitter si legge che gli attivisti sono stati spinti all'azione "dalle immagini di uomini omosessuali buttati giu' dai tetti o lapidati da Daesh". Il gruppo, che afferma di lottare al fianco dei combattenti curdi Ypg, dice di opporsi anche ai cristiani conservatori.
The formation of The Queer Insurrection and Liberation Army (TQILA), a subgroup of the IRPGF. Queer Liberation! Death to Rainbow Capitalism! pic.twitter.com/Tp1×2PZ079

—

IRPGF

(@IRPGF) July 24, 2017