Usa: Trump contro Comey, "è uno spione"
Commenti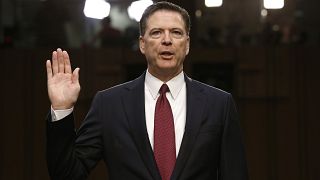 James Comey è uno spione: non si è fatta attendere la reazione di Donald Trump all'audizione dell'ex direttore dell'FBI in Senato. Su Twitter il presidente statunitense ha affermato che Comey abbia detto "soltanto menzogne".
Despite so many false statements and lies, total and complete vindication…and WOW, Comey is a leaker!

— Donald J. Trump (@realDonaldTrump) 9 juin 2017
Giovedì Comey aveva accusato Trump di aver cercato di modificare il modo in cui veniva condotta l'indagine sulle presunte ingerenze russe nelle elezioni del 2016 e di aver diffamato lui e l'FBI.
L'alto funzionario, destituito dal presidente il 9 maggio, ha confermato di essere stato esortato da Trump ad abbandonare l'inchiesta sui contatti di Michael Flynn, ex consigliere pe la sicurezza nazionale, con i russi.
Un colloquio avvenuto tra i due nello Studio Ovale il 14 febbraio dopo che Trump aveva chiesto ai suoi consiglieri di lasciare la stanza.
"Il fatto che il presidente abbia chiesto un colloquio privato desta molta preoccupazione", afferma l'avvocato penalista Peter Brill. "E' una questione etica: primo, il presidente ha fatto qualcosa di inappropriato? Secondo, il presidente è totalmente inesperto?".
Il reato di ostruzione alla giustizia resta per ora difficile da provare ed è quello che le inchieste parlamentari in corso cercheranno di stabilire. La vicenda ha contribuito a erodere la popolarità di Trump, scesa al 38%.