Brexit, Corbyn risponde alla May
Commenti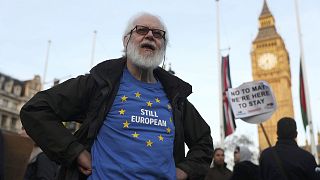 Il voto locale in Gran Bretagna ha riacceso le discussioni sulla Brexit tra la Premier e leader dei Conservatori Theresa May e Jeremy Corbyn, capo dell'opposizione laburista che ha voluto rispondere alle critiche della Primo Ministro, dicendo che il suo partito cercherà di negoziare una Brexit che funzioni per tutti e non per pochi. "Queste elezioni locali non erano legate alla Brexit ed è una questione che è stata anche oggetto di referendum – ha detto Corbyn – la domanda da porsi ora, alla vigilia delle prossime elezioni generali è che tipo di Brexit vogliamo e quale tipo di paese vogliamo essere in futuro. Noi vogliamo investire nel futuro di tutti".
IL PROFILOTWITTER DI JEREMYCORBYN
Theresa May is strong against the weak and weak against the strong → pic.twitter.com/bPXd5OqU6w

— Jeremy Corbyn (@jeremycorbyn) 6 maggio 2017
E mentre l'Unione Europea, in una nota del portavoce Schinas, ridimensiona le critiche della May, la Premier, invece, in piena campagna elettorale, rilancia sui negoziati per la Brexit. "Questi negoziati saranno a volte difficili – ha dichiarato la May – _ciò significa che hanno bisogno di una leadership forte e stabile nel Regno Unito seduta attorno a quel tavolo di negoziato. La gente deve ricordare questo: ci saranno 27 altri paesi europei da un lato e solo una persona a rappresentare il Regno Unito dall'altro. La questione alle elezioni generali è chi avrà questa leadership forte e stabile: io o Jeremy Corbyn?"
IL PROFILOTWITTER DI THERESAMAY
I'm grateful for the support we received in the local elections – but only a vote for my team on 8th June will secure the best Brexit deal: pic.twitter.com/DKAm9wGnt0

— Theresa May (@theresa_may) 6 maggio 2017
In Gran Bretagna si voterà il prossimo 8 giugno. Nelle elezioni locali i conservatori di Theresa May hanno guadagnato diversi seggi e restano in testa nei sondaggi seguiti dai Laburisti che peró incalzano.