Gb: Pil primo trimestre 2017 sotto le attese
Commenti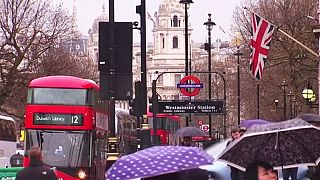 Prima battuta d'arresto per l'economia inglese che inizia ad avvertire gli effetti della fase post Brexit. Dopo le incoraggianti stime dell'ultimo trimestre dell'anno precedente che avevano fatto allontanare i pronostici di segno negativo, il dato relativo al primo trimestre di quest'anno è inferiore alle attese. L'Istituto di Statistica Nazionale ha riportato una crescita dello 0.3% del Pil, nel primo trimestre del 2017, contro il +0.7% nel quarto trimestre dello scorso anno, un dato sotto le attese degli analisti che avevano previsto una crescita dello 0.4%.
Growth slows to 0.3% – inflation rising, living costs rising, housing market stalled.
This is Brexithttps://t.co/EGQKdcbI0M

— Paul Johnson (@paul__johnson) 28 aprile 2017
Progresso lento anche per il settore dei servizi con un +0,3% nel primo trimestre del 2017, contro +0.8% dell'ultimo trimestre del 2016. Cifre che fanno preoccupare in vista di nuove elezioni, come voluto da Theresa May, fissate per l'8 giugno prossimo.
Choice facing the British ppl: strong & stable Govt w/ T May to lock in econ progress vs J Corbyn's coalition of chaos-a risk to our economy

— Philip Hammond (@PHammondMP) 28 aprile 2017
I calcoli dell'esecutivo sono ottimisti, anche il deficit dovrebbe migliorare secondo il governo, raggiungendo quota 51,7 miliardi di sterline al termine del biennio 2016-2017, rispetto ai 68,2 miliardi stimati lo scorso novembre. Nel 2016 l'economia britannica è cresciuta del 2%, in calo rispetto al 2015, ma comunque ad un ritmo superiore tra i Paesi dell'Eurozona.