Messico, dal 2014 indagini "bloccate" sulla scomparsa dei 43 studenti
Commenti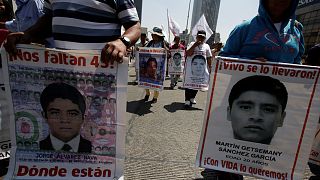 Ancora non è stata fatta giustizia per i 43 studenti scomparsi nella notte del 26 settembre 2014 durante una manifestazione a Iguala in Messico, altri 6 sono stati assassinati e 5 feriti. A distanza di tre anni la commissione internazionale che si è occupata del caso, accusa le autorità per aver contribuito a rallentare le indagini.
Two years on, the UN's view on the Iguala murders of 43 student teachers: "They can't go unpunished" https://t.co/wlzAlWGhHc#Mexico

— El País in English (@elpaisinenglish) 22 settembre 2016
Questa, ha inoltre denunciato la mancanza di nuove prove e l'assenza di accuse formali contro le forze di polizia, ritenute responsabili del massacro.
43 madri piangenti in piazza a Città del Messico in ricordo degli studenti scomparsi a Iguala nel 2014. https://t.co/R2MUAKPjV8pic.twitter.com/KPB9vZ7vkz

— euronews Italiano (@euronewsit) 5 marzo 2017
Secondo la versione ufficiale si è trattato di un gruppo di narcotrafficanti che aveva scambiato i tirocinanti di una scuola agraria, con i membri di una gang, per le indagini invece i sospetti ricadono sulle istituzioni. Queste avrebbero orchestrato un'operazione a cui hanno partecipato le forze dell'ordine locali e federali con la complicità dei servizi d'intelligence.