Turchia divisa sul referendum costituzionale. Un voto sul futuro del Paese
Commenti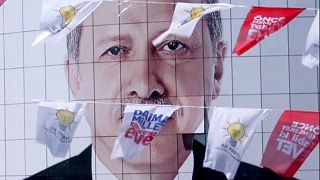 Niente silenzio elettorale in Turchia, alla vigilia del cruciale referendum costituzionale, fortemente voluto dal presidente Recep Tayyip Erdogan. Una consultazione per trasformare l'attuale repubblica parlamentare in repubblica presidenziale.
In tutto il Paese proseguono i comizi per cercare di convincere gli ultimi indecisi in una sfida che i sondaggi considerano testa a testa tra i "Sì" e i "No". Fino all'ultimo comizio Erdogan non smette di criticare l'Europa, minacciando la revisione dell'accordo sui migranti e di attaccare duramente gli avversari. "Hanno perso la loro reputazione e la credibilità", ha dichiarato Erdogan. "Noi non difendiamo la democrazia, i diritti umani e delle libertà solo per avere dei voti, lo facciamo perché i nostri cittadini lo meritano davvero. Meritano di avere maggiore democrazia e lo stanno dimostrando. "
LIVENOW: President Erdogan holds a rally in Istanbul on the day before Turkey's constitutional referendum https://t.co/6G6rq8cV9Kpic.twitter.com/FUgWUbuhBn

— Ruptly (@Ruptly) April 15, 2017
A poche ore dall'apertura delle urne, la Turchia è un Paese fortemente diviso tra i sostenitori conservatori del Sultano e i fautori del "No", sostenitori del partito socialdemocratico, il secondo nel Paese, e a favore di ogni forma di libertà: "Sono qui perché voglio che i miei figli possano continuare a pensare liberamente e per una Turchia dove i giornalisti e gli insegnanti non vengano arrestati", dice una elettrice.
#PACE#Turkey#Referendum before we leave to #diyarbakirNGO's presents their facts, worries and political work regarding referendum pic.twitter.com/yATKTN6xOK

— Stefan Schennach (@stefanschennach) April 15, 2017
Quello in programma è un referendum cruciale, per il Presidente che punta a trasformare il Paese in un'autocrazia a forte connotazione religiosa nazionalista, e per i futuri rapporti diplomatici con l'Occidente.
April 16 is the big day. Do you know what the constitutional referendum in Turkey is all about? #TurkeysChoicepic.twitter.com/jhppZ3Mig9

—

TRT

World (@trtworld) April 15, 2017