Usa-Russia, tra i due Paesi, stato di calma apparente
Commenti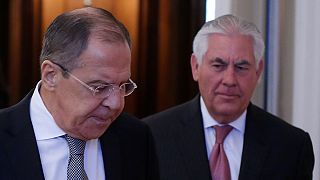 Tra Russia e Stati Uniti, al momento, esiste uno "stato di calma apparente". Rapporti non idilliaci, ma con tutte le prove di dialogo possibili. dalla visita del Segretario di Stato americano Rex Tillerson a Mosca, al tweet del presidente Trump che auspica in futuro una pace duratura e le dichiarazioni del ministro degli esteri russo Lavrov. "La giornata di ieri mi è piaciuta. Prima di tutto il presidente ha avuto un colloquio molto importante di circa due ore con il Segretario di Stato americano e forse questo darà alla lunga i suoi frutti. Una cosa è certa: in questo modo abbiamo almeno accettato di mantenere un dialogo su tutta una serie di questioni importanti".
IL TWEET DI DONALDTRUMP
Things will work out fine between the U.S.A. and Russia. At the right time everyone will come to their senses & there will be lasting peace!

— Donald J. Trump (@realDonaldTrump) 13 aprile 2017
Prima del suo ritorno negli States, Tillerson si è anche intrattenuto per oltre un'ora con Lavrov per un colloquio informale sui rapporti tra le due superpotenze. Poco dopo nuovo veto, l'ottavo, della Russia sulla Siria in Consiglio di Sicurezza dell'Onu.
Mosca ha bloccato la risoluzione promossa da Stati Uniti, Francia e Gran Bretagna sull'attacco chimico a Khan Shaykhun. Nel testo, oltre alla richiesta di accesso degli ispettori di Nazioni Unite e Opac per indagare sull'accaduto, si chiedeva a Damasco di cooperare pienamente con le due organizzazioni, anche fornendo i dati sui voli aerei del giorno dell'attacco e sulle basi militari. Tutto questo mentre a Washington il presidente americano Donald Trump incontrava il Segretario Generale della NATO, Jens Stoltenberg.