Addio ad Ahmed Kathrada, uno dei padri antiapartheid
Commenti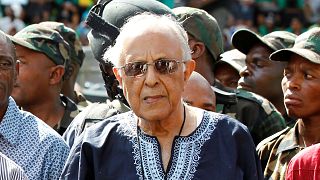 Ha combattuto tutta una vita contro la disuguaglianza. Ahmed Kathrada, uno dei principali leader della lotta all'apartheid in Sudafrica, e compagno di cella di Nelson Mandela a Robben Island, è morto a Johannesburg. Aveva 87 anni. A dare l'annuncio la Fondazione che porta il suo nome.
#Kathrada (87) has passed on early this morning. Read more for details: https://t.co/XCypRLiMM6

— Kathrada Foundation (@KathradaFound) 28 marzo 2017
Nato nel 1929 in una famiglia di immigrati indiani, lasciò la scuola a 17 anni per unirsi alla lotta contro l'apartheid. Ex deputato e consigliere del presidente Mandela durante il suo unico mandato alla guida del Sudafrica (1994-1999), Kathrada aveva fatto parte della prima cerchia di leader storici dell'African National Congress (Anc).
"Submit yourself to the will of the people." Ahmed Kathrada

Your legacy and desire for the total liberation of the people lives on. RIPpic.twitter.com/ppi0YN0jY5

—

EFF

Students Command (@EFFStudents) 28 marzo 2017
L'arresto insieme a Mandela nel 64 attirò l'attenzione mondiale sul regime di segregazione razziale. Trascorse 26 anni e tre mesi in prigione. Dopo il suo ritiro dalla vita politica, nel 1999, Kathrada aveva guidato la Fondazione impegnata nella lotta alle disuguaglianze.
Oggi il mondo piange e rende omaggio ad un uomo che fu fonte di ispirazione per milioni di persone.
Together again. Rest in Power! #AhmedKathradapic.twitter.com/6Nnd1KDFnX

— Vusi Thembekwayo (@VusiThembekwayo) 28 marzo 2017