Incontro Putin-Marine Le Pen: "Uniti contro il terrorismo"
Commenti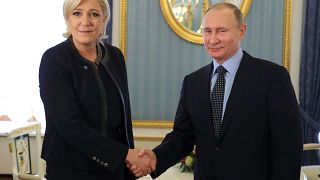 Un invito arrivato dalla Commissione esteri della Duma, ma durante la sua missione in Russi, a sorpresa Marine Le Pen è stata ricevuta anche dal presidente Vladimir Putin. Un colloquio nel quale si è discusso di terrorismo, economia e relazioni internazionali anche in vista delle elezioni francesi.
Putin ha sottolineato che Mosca non ha alcuna intenzione di influenzare le presidenziali, ma si riserva il diritto di tenere contatti con tutti i rappresentanti delle forze politiche del Paese, ribadendo l'importanza dei rapporti diplomatici con Parigi, sia con i rappresentanti del governo attuale che con l'opposizione.
Vladimir Putin met with Marine Le Pen, the leader of France's National Front https://t.co/HeJOj2AVelpic.twitter.com/6z0CRlUnqo

— President of Russia (@KremlinRussia_E) March 24, 2017
Il leader del Cremlino e la leader del Front National, in corsa per l'Eliseo, hanno ribadito l'importanza di unire le forze per combattere un pericolo che riguarda tutti: "Da tempo sostengo che Francia e Russia abbiamo molto in comune: relazioni culturali, economiche, strategiche, in modo particolare in questo momento dove si deve far fronte alla grave minaccia del terrorismo, ha detto la Le Pen. Un tema che la leader del FN aveva già affrontato durante l'incontro programmato con il presidente della Duma, dove la Le Pen ha anche assicurato il suo impegno per il riconoscimento della
Crimea come parte del territorio russo.
Avec le Président russe V. Poutine nous avons, entre autres, longuement évoqué la situation internationale et le terrorisme islamiste. MLPpic.twitter.com/sPWvM5yr8f

— Marine Le Pen (@MLP_officiel) March 24, 2017
J'ai échangé avec le Président Poutine sur le sort des Chrétiens d'Orient, menacés chaque jour par les fondamentalistes islamistes. MLPpic.twitter.com/ikFLpFgbWO

— Marine Le Pen (@MLP_officiel) March 24, 2017
In Francia il viaggio della leader del Fronte Nazionale, che arriva a meno di un mese dal primo turno delle elezioni, era stato criticato anche in seguito alle ingerenze russe nelle elezioni americane. Alla Camera bassa Le Pen ha invece tenuto un discorso improntanto sul tema della sovranità nazionale francese: "Questa è la mia battaglia e la mia strategia", ha dichiarato la Le Pen.