Ghana, alberi si abbattono su una scolaresca: 18 i morti
Commenti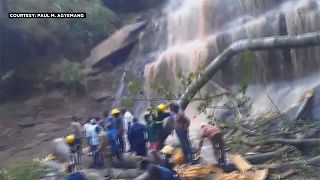 Doveva essere un fine settimana di divertimento e invece la festa si è trasformata in una tragedia. 18 studenti di una scuola superiore, sono rimasti uccisi nelle cascate di Kintampo, nel Ghana quando un albero, durante un temporale, è precipitato in un laghetto, molto frequentato. Una ventina i ragazzi rimasti invece feriti e ora ricoverati in ospedale.
I am in Kintampo to commiserate with the families of some of the students who lost their lives at the Kintampo Waterfall on Sunday. pic.twitter.com/wr1tyulPLu

— Dr. Mahamudu Bawumia (@MBawumia) March 20, 2017
I giovani, nonostante le cattive condizioni del tempo, nel pomeriggio di domenica avevano deciso di fare un bagno nelle acque del fiume vicino alle cascate, sottovalutando i possibili rischi. All'improvviso, infatti, sono stati sorpresi da una tempesta che ha provocato il crollo di diversi alberi. Su quanto accaduto è stata aperta un'inchiesta. Si dovrà stabilire se si sia trattato di un evento che non poteva assolutamente essere previsto oppure se la decisione di immergersi sia stata un'imprudenza che gli accompagnatori degli studenti avrebbero dovuto evitare.
Il presidente del Ghana, Nana Akufo-Addo, ha inviato le sue condoglianze ai familiari delle giovani vittime.
I have learnt with great sadness, the unfortunate incident that occurred at Kintampo Waterfalls yesterday. (1/2)

— Nana Akufo-Addo (@NAkufoAddo) March 20, 2017