Incontro assai teso fra Donald Trump e Angela Merkel
Commenti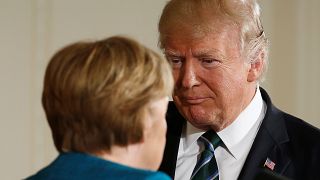 Donald Trump non stringe la mano ad Angela Merkel. È un incontro assai teso quello che la cancelliera tedesca e il presidente americano hanno alla Casa Bianca.
Su twitter è una pioggia di cinguettii. L'espressione della Merkel di fronte al comportamento di Trump che la ignora ha fatto il giro del mondo e mostra come la relazione fra Washington e Berlino potrebbe davvero essere a una svolta. Almeno a quanto dimostrano i rapporti diplomatici fra i leader dei due Paesi, che di diplomatico sembrano aver assai poco. Il contrasto più evidente in materia di immigrazione: "Un privilegio, non un diritto", ha sottolineato Trump, che in passato aveva già definito catastrofica la politica di ospitalità della cancelliera verso i rifugiati.
Tapfer weggelächelt: Beste Freunde wurden #Trump und Merkel bei ihrem Treffen auf jeden Fall nicht. https://t.co/rFejfARogn

—

ZDF

heute (@ZDFheute) 18. März 2017
realDonaldTrump</a> met with Merkel today, denied her a handshake. Very small of him. <a href="https://t.co/XgS3KbseV2">pic.twitter.com/XgS3KbseV2</a></p>&mdash; djt Facts (DjtFacts) 17. März 2017
Some men are threatened by powerful women.

Some aren't. pic.twitter.com/6lFm2TNbtU

— Mikel Jollett (@Mikel_Jollett) 17. März 2017
https://twitter.com/WaltrautDunz
In conferenza stampa le domande dei giornalisti tedeschi avevano contribuito a indispettire Trump. Una giornalista chiede alla Merkel cosa pensi dell'isolazionismo di Trump e all'americano del perché sia critico verso la pluralità della stampa tanto da parlare spesso di fake news, di notizie inventate.
All'esitazione della Merkel Trump interviene e dice di essere un negoziatore, "un negoziatore giusto per tutti e di non essere per niente un isolazionista, non gli passerebbe per la testa di esserlo". E aggiunge: "Non so dove l'abbia letto, credo che questo sia un altro esempio di notizie inventate".
Altro motivo di discussione è stata la tavola rotonda su lavoro e formazione a cui ha partecipato Ivanka Trump, figlia del miliardario-presidente e che non riveste alcun ruolo nell'amministrazione.