Viaggio subacqueo della "Finestra azzurra" di Malta dopo il crollo
Commenti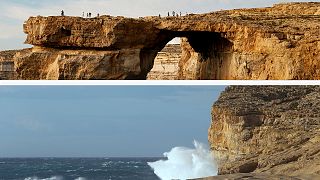 Le buone condizioni meteorologiche hanno permesso ai subacquei di vedere quello che resta della "Finestra azzurra di Malta", sull'isola di Gozo. Il famoso arco roccioso è crollato per un forte temporale. A darne la notizia era stato Joseph Muscat, primo ministro di Malta: "Sono appena stato informato che la bellissima Tieqa tad-Dwejra a Gozo è collassata. Ho il cuore a pezzi".
The site from where one could admire it-Tieqa tad-Dwejra. Heartbreaking. pic.twitter.com/S4XV6MyKRu

— Joseph Muscat (@JosephMuscat_JM) March 8, 2017
Raniero Borg, esperto subacqueo, è stato uno dei primi a filmare il luogo dopo il crollo. Il famoso arco roccioso era stato uno degli scenari della prima puntata della saga di "Game of Thrones" ed era molto amato dai tuffatori.