Spagna, Inaki Urdangarin evita il carcere. Fissata cauzione da 200mila euro
Commenti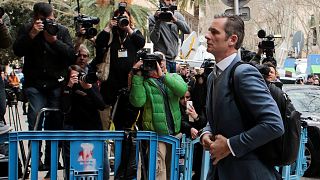 Grazie a una cauzione di 200 mila euro carcere evitato per Inaki Urdangarin. Il marito dell'Infanta Cristina, e cognato del re di Spagna Felipe VI, non finirà così dietro le sbarre prima della sentenza di appello per lo scandalo Noos.
Iñaki Urdangarin, queda en libertad https://t.co/UBZEMwy9OEpic.twitter.com/wUm6QwDfU2

— Clarín (@clarincom) February 23, 2017
Princess Cristina of Spain's husband, Urdangarin, sentenced to 6 years prison https://t.co/qet2BiYmeE#sentencianoos#infanta#urdangarinpic.twitter.com/lhHVY3a38R

— Murcia Today (@MurciaToday) February 17, 2017
Urdangarin la scorsa settimana era stato condannato in primo grado a sei anni e tre mesi e al pagamento di una multa di 512.000 euro, ma il suo avvocato aveva annunciato l'intenzione di ricorrere appunto in appello.
L'uomo, insieme a un socio Diego Torres, sono accusati di avere dirottato verso società paravento, una delle quali di proprietà dell'Infanta e del marito, circa 6 milioni di euro di denaro pubblico destinato alla Fondazione Noos. L'Infanta Cristina, assolta dall'accusa di frode, è il primo esponente della Casa Reale a finire sotto processo dal ritorno della monarchia in Spagna nel 1975.
#UPDATE Princess Cristina of Spain cleared in tax fraud case, husband gets jail sentence of six years https://t.co/vSuduuX9Tgpic.twitter.com/8ugguUlpvz

—

AFP

news agency (@AFP) February 17, 2017
Il tribunale delle Baleari ha fissato l'obbligo per Urdangarin di firmare due volte al mese a Ginevra, dove risiede, e di comunicare spostamenti fuori dall'Europa.